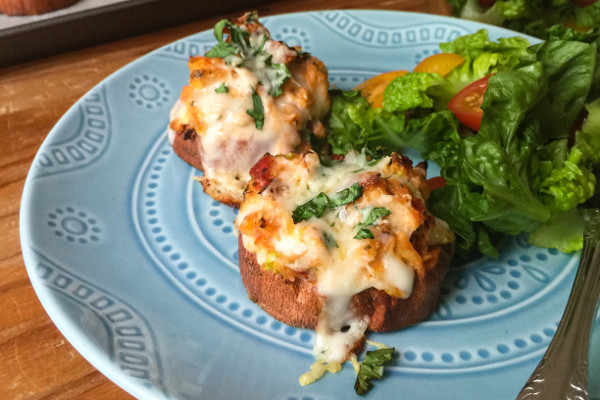 Serving Size: 2
Makes: 4-6
Submitted by:
1 Large jewel sweet potato (thoroughly washed and sliced into 10 1⁄2 inch pieces)
1⁄4 TSP Pink peppercorn salt (or Himalayan sea salt)
1 TSP Organic olive oil
Filling
1 (5 oz.) Can of Safe Catch tuna
1⁄2 Cup Fresh mozzarella cheese, diced
2 TBSP Fresh scallions, chopped
1 TSP Freshly chopped sage
1 TSP Flavor God Garlic Lovers (or favorite spice blend)
2 TBSP Mayonnaise
1 TBSP Harissa red pepper sauce
Topping
2 TBSP Shredded parmesan
2 TBSP Cilantro leaves, chopped
Toss potatoes with olive oil and salt. Place potatoes in a single layer on a baking sheet lined with parchment paper.
Bake for 35-37 minutes or until potatoes are tender (turning once).
While potatoes cook, combine all ingredients for the filling (make sure you don't break up the tuna too much- you want to have nice pieces of tuna in the filling).
Remove potatoes from the oven and increase the oven temperature to 400°. Top each potato with 1 Tbsp of filling. Return potatoes to the oven and bake for another 10-15 minutes or until the mozzarella cheese has melted.
While the potatoes cook, stir together cilantro and parmesan cheese. Finish the potatoes with 1⁄2 tsp of parmesan cheese mixture and return to the oven.
Bake for an additional 7-10 minutes or until the parmesan cheese is melted and the crust is a golden brown.
Serve immediately with romaine lettuce, heirloom tomatoes, lemon juice, salt and organic olive oil.